WELCOME TO OUR WEBSITE!
If you've never visited our shop, we hope you enjoy our NEW STORE TOUR! If you have been here before, welcome back! And Have Fun! The tour is new, so please visit it again.
Bob Tuttle and his wife, Pauline, have owned and operated Tuttle's Seahorse Shell Shop on Periwinkle Way in historic Old Town Sanibel since 1973. "We're one of the oldest shops on the Island", Bob says, "and we continue to present an eclectic array of tropical treasures and trinkets at very affordable prices."
Tuttle's has expanded its fabulous selection of 14 kt. gold - "literally hundreds and hundreds of charms," plus bracelets, earrings, omega sliders and chains...and a delightful selection of golden rings with dolphin and shell themes. "We also carry a big inventory of sterling silver jewelry - including popular ankle bracelets and toe rings. Check out our catalog for photos and don't miss our monthly specials."
When it comes to Sanibel Island logo shirts, everything at Tuttle's is first class. Quality cotton tees, sweatshirts, denim shirts and jackets - in unisex styles and sizes - are welcome gifts for yourself as well as others. Check out our catalog for a sampling of what we offer!
Islanders and visitors are talking about the hand painted wooden benches sporting bright beach scenes - they're coated with marine varnish and perfect for patio pool or porch.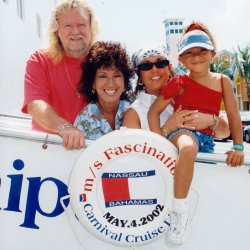 We have the best selection of Nautical Gifts on the Island. Check our catalog or take a NEW STORE TOUR to see our selection. If you don't see what you are looking for, call us on our toll-free number. We can find most anything you are looking for! Delicate hand-carved wooden birds, charming bird houses, lighthouse oil lamps, 'gator heads, Sanibel coffee mugs and etched wine glasses... it's all waiting at Tuttle's Seahorse Shell Shop. Of course you'll want to scope out the big selection of seashells! Our catalog page show a sampling of what we offer.
Be sure to enjoy Bob's personal collection of Hopalong Cassidy collectibles.
When you visit allow plenty of time for browsing. "This is a fun store," Bob says, "and we have a good time here."
The new "spice and hot sauce" corner offers lots of exciting products - including souvenir hats, ties, trivets and magnets - plus "Roadkill" sauce, "Crazy Jerry's Margarita Salsa," "Billy Bob's Blistering Pepper Sauce" and other tasty condiments from around the world. There's even Bob's own recipe for Hot Sauce and refreshing Key Lime candy!
As you can see, we have a great selection of nautical-related items in our little store. To give you a better idea of the scope of our selections, please feel free to take a tour of our store by visiting our Tour page.

The Tuttle Family
Please feel free to E-Mail us for current prices for our 14 kt. gold and sterling silver charms. We also carry authentic Atocha Treasure coins (Gold or Silver)! All diamond cut 14 kt. gold - at market value. UPS service daily! We accept Master Card, Visa, American Express and Discover. For Charge Card Sales please call 239-472-0707 (Toll Free: 866-472-0707) between the hours of 10 a.m. through 5 p.m. ET, Monday thru Saturday.
Catalog | Related Links | Product Info | New Store Tour
Tuttle's Sea Horse Shell Shop
362 Periwinkle Way
Sanibel FL 33957
(239) 472-0707
Toll Free: (866) 472-0707
E-Mail: PANDB44@aol.com
---
Website designed by
Lade's Internet Service